---
---
MO-2000QVP
Description
Effortless Threading with the Power of Air. Simplified Serging with Informational LCD Screen that allows easy set-up instructions including tension settings for 15 different stitches at a glance on the LCD Screen, the MO-2000QVP offers various stitch patterns that will help unleash your Creativity.
Convenient Threading With the Easy Threader
Using the new easy threader feature, easily thread the machine from the threading hole to the looper with the power of a strong whoosh of air sent from the electric motor. This amazing function dramatically alters upper and lower looper threading.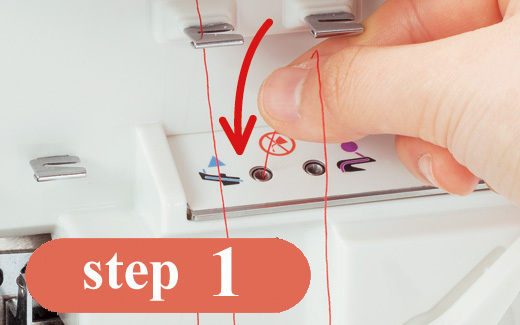 Insert 1 to 2 cm of thread.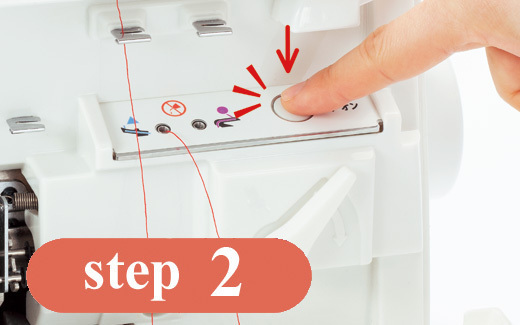 Press the air-control pushbutton.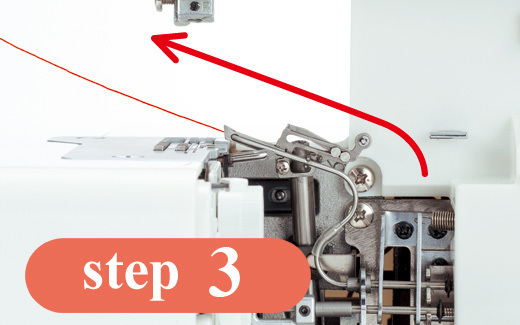 And you're done! The machine was simply threaded by air.
Automatic Needle Threader
Quickly thread the needle! With the automatic needle threader, the needle is threaded in 3 easy steps.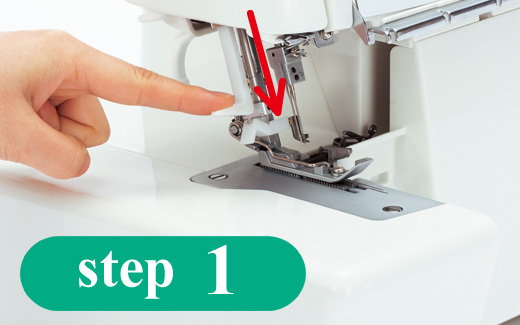 Lower the threading lever.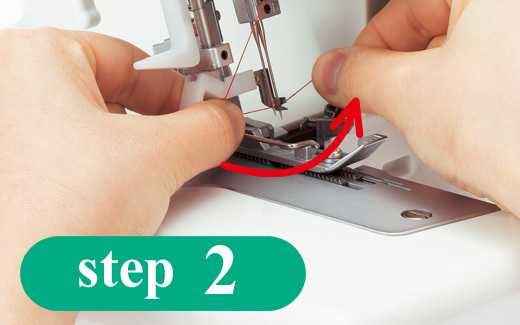 Hook the thread.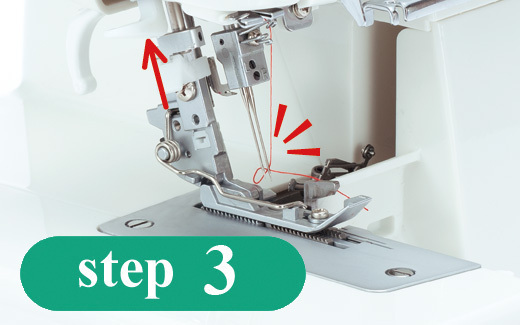 Return the lever to finish threading.
【NEW】Informational LCD Screen
Easy set-up instructions including tension settings for 15 different stitches at a glance on the LCD Screen. No more searching through pages of your manual, serging is simplified with the informational LCD screen.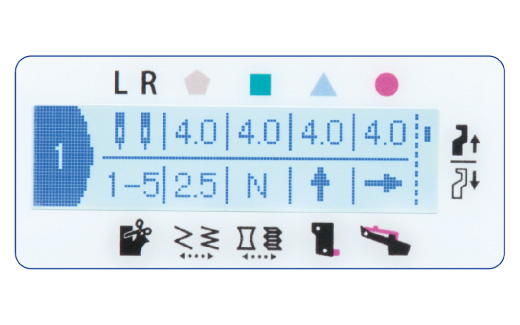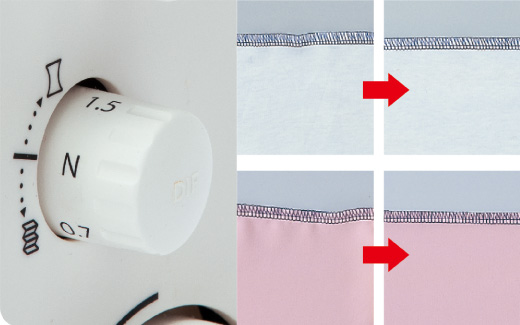 Adjustable Differential Feed
Even with easily stretched fabrics such as knits and georgette, create beautifully sewn finishes by adjusting the differential feed. Adjustments can even be made while sewing.


Beautiful Sharp Curve
The distance between the needle and knife is 9.95mm (conventional model:15.5mm), allowing you to sew beautiful inside curves.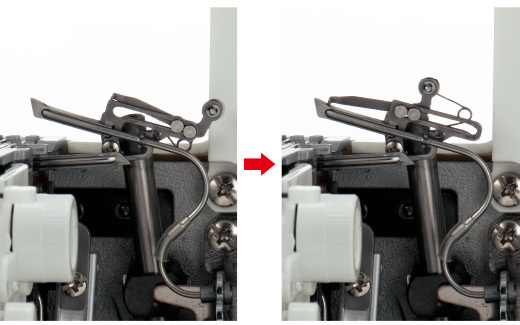 Upper Looper Converter 2-/3-Thread Conversion
Switch to 2-thread sewing simply by pushing the 2-/3-thread changeover attachment to the left, making this operation even easier.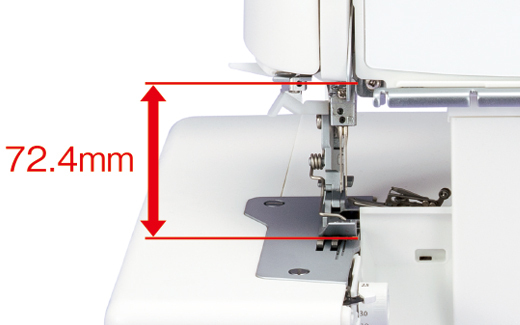 Wide Throat Area
The height of the throat is 72.4mm. Due to this height, the usability of the work space improved infinitely.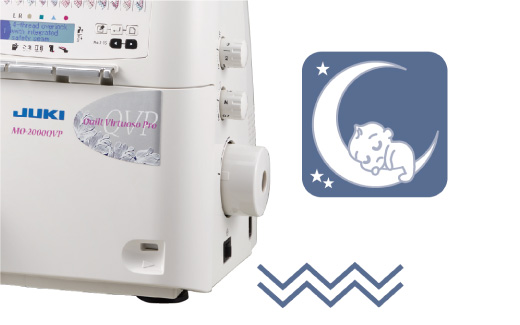 Quiet Operation
The sound reducing design minimizes the operating noise and the unit sews with less vibration.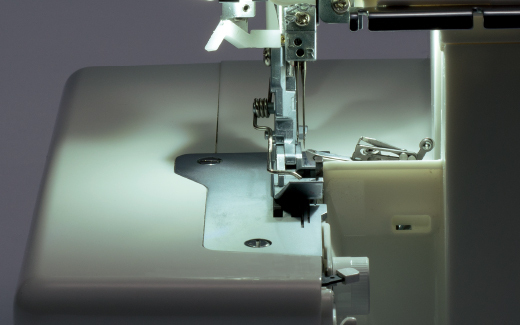 LED Sewing Light
The needle area is brightly illuminated. The long-life, energy-efficient and eco-friendly light will not heat up, even after a long period of use.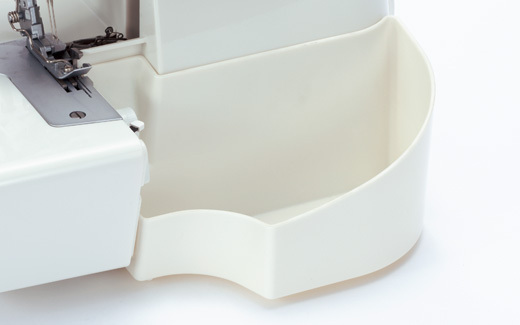 Waste Collector
Provided as a standard accessory, the waste collector catches cut-off fabric and is useful for keeping the area tidy.


・Automatic rolled hemming
・Adjustable presser foot pressure
・Option to deactivate upper knife
・Cutting width adjusting dial
・Safety feature preventing operation when the presser foot is upper position or the cover is open.
・Thread trimming blade for easy thread cutting
Specifications
Sewing Speed : Maximum 1,500 spm
Number of threads : 2/3/4 Threads
Number of needles :1 / 2 needles
Standard Overlock width : Left needle: 5-9 mm;Rolled Hem: 2 mm;Right needle: 3-7 mm
Stitch length : 1-4 mm (standard 2.5mm)
Differential Feed: : 0.7-2.0 Ratio
Presser foot lift : 5 mm/8 mm
Needle : 130/705H Nm 70,80,90
Product Video
Included Accessories
401-34861 – Standard Presser foot
A9106-776-000 – Spool Caps
A9109—202-000 – Tweezers
400-65952 – Cleaning Brush/Needle inserter
A9116-335-000 – Nets
401-38981 – Looper threader
A9110-776-000 – Screwdriver
A9104-102-0A0 – Oiler
A9101-552-000 – Accessory bag
Optional Accessories
401-38091 – Blindstitch Presser foot (for Right needle)
401-49058 – Universal Blindstitch Presser foot (for right
and left needle) –
401-38095 – Elasticator Presser Foot
401-38099 – Cording Presser Foot
401-38106 – Beading Presser foot
401-49059 – Curved Beading Presser foot
401-38103 – Piping Presser foot
401-38121 – Gathering Presser foot
401-49062 – MO Attachment Set (8 pcs)
401-49061 – MO Attachment Set (6 pcs)
401-49060 – MO Attachment Set (3 pcs)
Downloads
MO-2000QVP Brochure
---
Complete Accessories Catalogue
---
Included Accessories
---
Instruction manual MO-2000QVP
---
MO-2000QVP Spare Parts Book
Warranty Registration Form

Warranty Terms (note Sewingtime NZ Ltd warranty labour costs will only be covered for machines purchased via Sewingtime NZ Ltd )
---