Basic performance
The LK-1900S comes in two different types to allow customers to select the best-suited one
The LK-1900S comes in two different types; i.e., S type (Standard) and H type (for Heavy-weight materials). Customers may select one of these types according to their applications.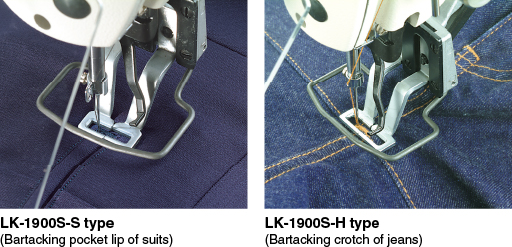 This sewing machine quickly carries out sewing of various kinds of sewing patterns
The sewing machine is provided as standard with 51 sewing patterns with different stitch directions and number of stitches, such as large bartacking, small bartacking, straight line tacking. The operator can select the best-suited sewing pattern according to the given process. (In some cases, the work clamp foot and other parts may be required to be changed.)
Work clamp foot lifting height (max. 17mm)
The sewing machine is provided as standard with the stepping-motor type work clamp foot lifting device. The maximum lifting amount of the work clamp foot is 17 mm.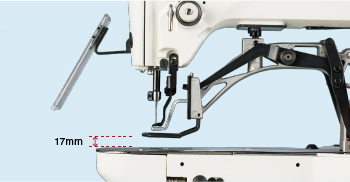 LED light (light quantity in five levels + light-out function)
The LED light that illuminates the needle entry area is provided as standard. The LED light is provided with the six-step changeover switch to control its brightness and light-out.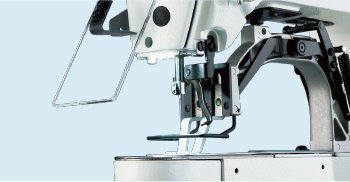 Excellent responsiveness promises comfortable work
The direct-drive system that directly connects the compact AC servomotor to the main shaft of the sewing machine has been adopted. This system enables quick startup and promises increased stopping accuracy, thereby contributing to improved responsiveness.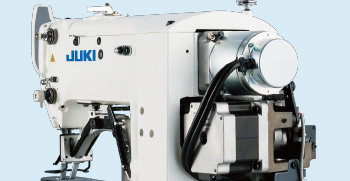 Location of the hand pulley allows the operator to check the needle entry with ease
The hand pulley is located at the arm of machine head. This arrangement helps the operator visually check the needle entry with ease.